Night Club Two Step
Type: Club Dance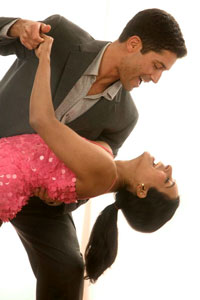 Description
This dance was allegedly invented by Buddy Schwimmer, the father of So You Think You Can Dance star Benji Schwimmer.
It is a slow, romantic, floaty dance that features rock steps and long glides across the dance floor. It is done to contemporary and popular ballads ("The Lady in Red") is probably the classic Night Club Two-Step.)
History
Nightclub Two Step is one of the most practical and versatile social dances ever conceived. It is designed to be used with contemporary soft rock ("love song" type of music).
This type of music is common just about everywhere: nightclubs, radio etc. The rhythm of the dance is very simple and rarely changes from the 1 and 2 count.
This simple romantic dance fills a gap where no other ballroom dance fits. It give the dancer, either beginning or advanced, the opportunity to express and create without a rigid technique being required.
Buddy Schwimmer a renowned California dance teacher created and popularized Nightclub Two Step.
Dance Characteristics
Nightclub Two Step is an easy dance that almost anyone can learn. Its key characteristic is a rock step (5th position break) followed by a side step with a slight sway. The frame is relaxed somewhere between a Latin and Ballroom frame – similar to a Bolero frame with a little more distance between the partners.
Musical Information
Time signature: 4/4
Tempo: 16-22 measures per minute
Timing: 1&2, 3&4, 5&6, 7&8
Beat value: ½ – ½ – 1
Learn to Dance The Night Club Two Step in Los Angeles